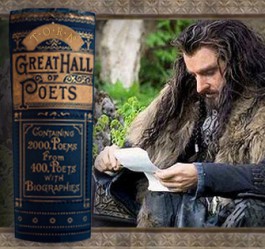 Welcome to The Nice Corridor of Poets, our common month-to-month characteristic showcasing the expertise of Center-earth followers. Every month we'll characteristic a small number of the poems submitted, however we hope you'll learn all the poems that we now have obtained right here in our Great Hall of Poets.
So come and be a part of us by the fireplace, and revel in!
In case you have a Tolkien/Center-earth impressed poem you'd wish to share, then ship it to poetry@theonering.net  One poem per individual could also be submitted every month. Please be certain to proofread your work earlier than sending it in. TheOneRing.web just isn't answerable for poems posting with spelling or grammatical errors.
Artwork of Destiny
by: Milan
How can a lot darkness exist, whereas there's mild?
How can the Black Eye of Mordor stare, whereas hobbit kids skip by the grass?
Do all of the troubles wash away down the River Anduin, nice and extensive, mysteriously,
Or do they pop up like hobbit kids in a recreation of cover and search, prepared to come back out for Elevenses?
How does life transfer on, to the great thing about the Lorien,

To come back into the songs of previous,
To relinquish the artwork of destiny,
To come back again stronger than you got here,
What's going to the minstrels sing?
What's going to they are saying of their songs if you're gone,

If you look into Galadriel's Mirror, what's going to you see?
A tragic reflection of your self, of all the pieces you might be,
The destruction of your private home, a black eye of fowl menace,
Who're you? Are you able to face your self for me?
Weren't all of us simply hobbits, letting our days unwind, in a protected haven for a time,

When the Carrion fowl take your physique,
What's going to you assume?
Will you watch out of your ship at sea,
Or paddle ahead, to search out what awaits you in lands of bliss,
What shall be your regrets, your needs, your lies to your self?

-Milan
~~ * ~~
Center Earth haiku
by: H Herz
Strider's valiant, however...
Not all who wander can cook dinner.
The place's second breakfast?

~~ * ~~